As an avid reader with a blog, I always say I'm going to write a bunch of book reviews. But I always get too excited about picking up the next title on my TBR to sit down and write anything more than a one-liner or a star-rating on Goodreads. So instead of forcing myself to write a detailed review of every book I've read, I'm going to listicle this shit and give you some thoughts on the five best and worst books I've read so far this year.
Best:
Becoming by Michelle Obama
I pre-ordered this book as soon as I heard about it, but I knew I needed to be in the right mindset to really absorb the wisdom that I expected to be packed inside. So I waited until the new year when my mind was fresh and ready for some new beginnings. Unlike most of the other books on this list, Becoming was a slow read for me. Not because it wasn't good, but because I needed to take my time with it. Just as I needed to be in the right mindset to begin, I felt like I needed to go slow to give Mrs. Obama the attention that her words deserved. And I was not disappointed. Becoming was thoughtful, insightful, and inspiring. Her pragmatic approach to balancing her life and valuing both her family and career was so fresh compared to the usual, "hire a nanny, have it all" advice we get from other famous career women.
Children of Blood and Bone by Tomi Adeyemi
I've already written about this book, but I couldn't not mention it again because it was absolutely one of the best books I've read in the last few years. After pacing myself through the first two hundred or so pages (to preserve my bedtime), I blazed through the last half of the book at lightning speed. The world building was extraordinary, and every single character was so well developed, I can't imagine the story being told through a single perspective. I cannot wait for the sequel to come out later this year.
The Guernsey and Potato Peel Pie Society by Mary Ann Schaffer and Annie Barrows
I've been indulging in more escapist, fluffy reads this year than I have in the past, acknowledging that sometimes that's just what my brain needs. And this one was by far my favorite. I actually watched the Netflix movie before I read the book, which is super unusual for me. But I didn't know what a lighthearted read it was and so I bypassed the title when it was going around as the hottest book club pick in booktown for the last few years. I'm so glad I finally picked it up though because it has everything I love. It's a book about books, for shit's sake! I should have read it a long time ago.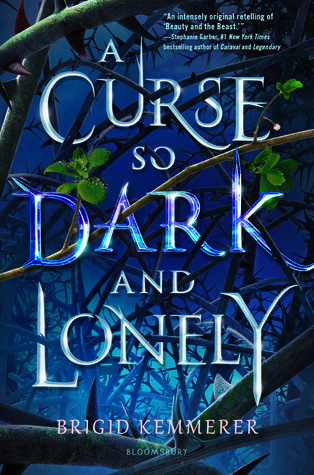 A Curse So Dark and Lonely
This is another book that I preordered and have been looking forward to since the moment I heard about it. A Beauty and the Beast retelling, the main female character has cerebral palsy. Belle was always the Disney princess I identified with because of her love of books and slow-burn romance with the Beast. Plus, my best friend has CP, so I was instantly sold. And I was not disappointed. I stayed up until 2AM reading this book and when I found out the sequel isn't coming out until NEXT JANUARY, I almost cried. Harper is such a wonderful, badass character, and her disability is represented so realistically that my mental picture of her is a teenage version of my best friend, Roo. I hope there's never a movie version so no one can tell me otherwise.
Worst:
Pick Three by Randi Zuckerberg
I don't normally write negative reviews unless I'm being paid for it because normally if I don't like a book, I just won't finish it. There are too many wonderful books in the world and not enough time to waste of hate-reading. But I did finish this book. I guess it was partly out of stubbornness, but also because I was still hoping I could salvage something valuable out of my time investment.
I picked up Pick Three because I was feeling overwhelmed with all the projects I've been juggling lately—writing, freelancing, planning a wedding, going to the gym, functioning as a human being—and was hoping this book would help me find a way to balance it all. Instead, I was just disappointed. The concept is drastically underdeveloped, with more emphasis placed on the importance of Randi's five categories than on how the reader can prioritize their lives. And then I found out the book was based almost entirely on a single tweet from 2011 that described "the entrepreneur's dilemma" and it all made sense. If Zuckerberg had stuck to that narrow premise and audience, maybe this book would have worked. But for the rest of us who have different motivations and puzzle pieces of our lives, it was a big old fail.